French Door Refrigerators are super popular in foreign countries, however, in India, they are still relatively less popular, though there is an increase in sales of french door refrigerators every year in India. French door refrigerators have their doors aligned like a wardrobe or closet i.e. it has double swinging doors. The freezer unit is placed below the main fridge. This allows you to access the main fridge very easily without having to bend. The freezer unit being at the bottom allows it to cool faster and stay cold even during a power outage as cold air sinks thus with the freezer unit below, the colder air and compressor fluid stay in the lower parts of the fridge, keeping the freezer unit cold. Also in most cases, the freezer is used far less than the main fridge, so it makes sense to have the freezer below and the main fridge, which is constantly used, on top. The capacities of these refrigerators are quite large as well, with most of them having capacities of 600L and above.
French Door Refrigerators are usually the top end models of most brands. This means that they come with great features like water and Ice Dispensers, Smart Inverter Technologies and many other new and exciting innovations. So, after all this the only question that remains is Which is the best French Door Refrigerator? Well, to answer this question we will take a look at the French Door refrigerators that are available in India. Not many brands offer French Door refrigerators in India due to the lack of popularity that they have. However, brands like LG, Samsung and Hitachi do offer these refrigerators in India. So here is our list of the Best French Door Refrigerators in India: –
LG SIGNATURE 984 Litre InstaView Door-in-Door™ Counter-Depth Refrigerator
Samsung French Door 826 Litres Frost Free Refrigerator
Hitachi French Door 638 Litres Frost Free Refrigerator
LG SIGNATURE 984 Litre InstaView Door-in-Door™ Counter-Depth Refrigerator
This is LG's flagship Refrigerator and the best French door refrigerator in India. It has a colossal 984L capacity and comes with a myriad of futuristic features and technologies. The main technologies and features in this refrigerator are: –
● InstaView Door-in-Door™ has a sleek mirrored glass panel that illuminates with two quick knocks, allowing you to see inside the easy access compartment without ever opening the door, reducing cold air loss to help keep food fresher longer.
● Auto Open Door feature is a smart sensor detector at the foot of the refrigerator that opens the door automatically. Just step on the "Door Open" light projection on the floor in front of the refrigerator and the door gently opens.
● Eclipse Display with Smart ThinQ and Wi-Fi.
● Freshshield cooling uses cold air to form a shield around the storage compartment and keep food fresh for longer.
With Supreme Features like this, it certainly is the best refrigerator in the Indian Market. There really is no flaw with this refrigerator. However, there is always a downside to everything and for this colossal refrigerator the downside is its colossal price tag. With a whopping price of Rs 6,50,000 it really is a fridge worth royalty.
Samsung French Door 826 Litres Frost Free Refrigerator
Samsung offers some great refrigerators in both single and double door variants. However, this huge 826L French Door fridge is their best product that they offer in India. It comes with a myriad of features and technologies. The main features of this Refrigerator are: –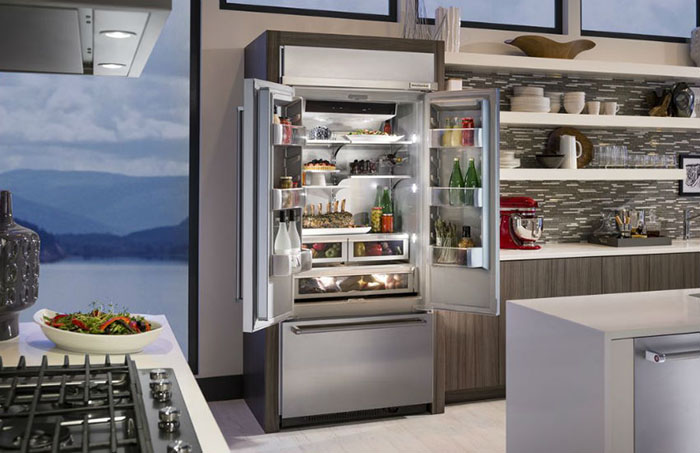 ● Quick Freezer Zone
● Freezer Lamp
● 5 Number of Shelves
● Digital Inverter Technology
● Triple Fresh Cooling Technology
● Dispenser with Water Filter
Although the technologies offered here are superb by any standard, they just cannot compare to the LG refrigerator mentioned above. However, this is easily the second best refrigerator in India and at Rs 3,00,000 seems a lot more affordable than the LG.
Hitachi French Door 638 Litres Frost Free Refrigerator
Hitachi, a Japanese brand, is better known for their consumer electronics such as Air Conditioners but this magnificent 638L French Door refrigerator is a work of art. It comes with superb state-of-the-art technologies and features. The main features are: –
● Quick Freezer Zone
● Egg Tray
● Ice-Tray
● Vegetable Tray
● Freezer Lamp
● 5 Star Energy Ratings
● 6 Shelves.
While these features are great they are nothing special when compared to the refrigerators mentioned above. This is, for obvious reasons, the cheapest model on our list at Rs 1,00,000. So, if you want a good French Door Refrigerator but don't want to spend far too much, then this is one of the best options you can consider.
These are the best French Door refrigerators in India. However, there are a few other models that are either variants of these or are from different brands but they are nothing to write home about and hence have not been mentioned here. The French Door Refrigerator market is currently too small in India to consider more brands and models. However this might change soon as more and more people are demanding French Door Refrigerators and we may soon see many more top notch models being released in India and at more affordable prices.