Vu, an Indian home and large appliances company, has recently announced the launch of their Flagship TV, the 100-inch Super TV. Vu is well known for their premium quality products that are easily capable of competing with some of the best products in the market. Their flagship, so far, has been the 55-inch 4K TV which gave superb picture and sound quality that was comparable to some of the best products from top brands like Sony and LG, however the Vu TV cost a fraction of the price of these products from well-known brands. They have, however, changed their strategy a little bit for the Super TV that is priced close to the price of The Wall TV from Samsung. While the The Wall maybe larger in size at a whooping 146-inch, the Super TV comes with some great added features that make it an equal match for the The Wall.
Specifications and Features
The first thing to note is that it is a smart TV like none other. The television has been launched with two operating systems – Android 8.0 Oreo and Windows 10. Consumers can choose the variant of their preference.The offering has been launched in two options in terms of processors – Intel Core i3 and Intel Core i5. Along with this, there is 4GB of RAM and 120GB SSD storage. The product also features TV Tuner and has an in-built Windows 10 PC which can also be used to perform Skype video calling. A wireless Qwerty keyboard and air mouse are also included in the package. This also means that it can also double up as a gigantic PC.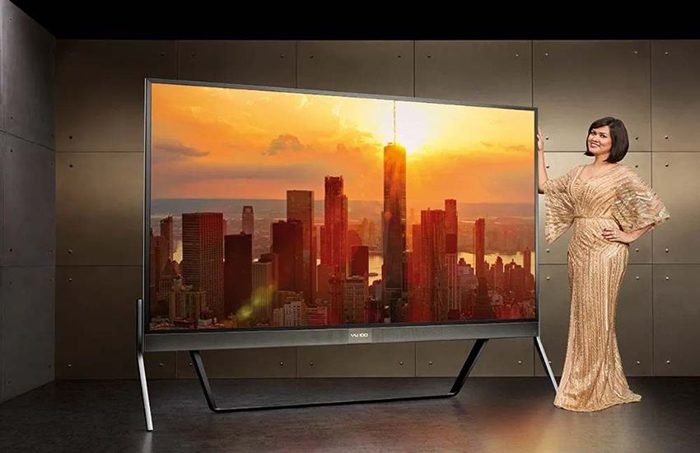 The Super TV also comes with JBL speakers with in-built woofers and 2,000W sound. The television also supports Dolby and DTS audio while three USB ports, Bluetooth 5.0, HDMI, AV, YPbPr and RF are the connectivity options. A floor and wall mount, AAA battery and remote control with keyboard come with the television as well. The Display is a 4K UHD LED display that gives an incredible TV viewing experience, especially combined with the awesome sound system. The TV has minimum bezels on the sides, while the logo is placed at the bottom. This adds a pleasing aesthetic value to it as well.
Whether it is for your workspace or for your home, the Vu Super TV is a fantastic option to consider especially if you are considering to buy a huge and premium TV. The colossal TV comes with and equally colossal price tag of about Rs 8 lakhs and can be expected to go on sale towards the end of October 2019.